At last the climate chaos long predicted by scientists and
environmentalists has hit U.S. shores in the form of high velocity Hurricane
Katrina – but it's only a sign of whats to come, according to our guests.
Due to a reorganization of our usual server (radio4all.net) we are unable to provide directly the recordings of each segment. You can access each by going to radio.indymedia that is for now hosting them. Thank you for your patience and understanding.
John Rennie is editor-in-chief of Scientific American, which predicted
the devastation in a 2001 article, Drowning New Orleans.
Listen (10 min) via radio.indymedia (it is the first segment)
And don't miss their September issue, Crossroads for Planet Earth.
Tom Knudson with NOAA speaks about his research about the impact of climate change on hurricanes.
Listen (7 min) via radio.indymedia

Mike
Tidwell, author of the prophetic 2003 book, Bayou Farewell tells us
why this cataclysmic event is another September 11th event that will either
make, or break, this country.

Listen (12 min) via radio.indymedia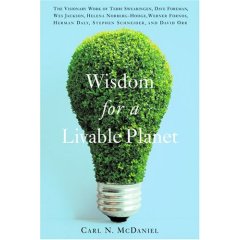 Carl Mc Daniel is the author of Wisdom for a livable planet : it encapsulates what we need to learn to survive. Enjoy!
Listen (7 min) via radio.indymedia
LISTEN to the whole program (37 min) hosted as usual by airamericaplace.